Loneliness affects all of us at one time or another, but in the later stages of life it can be more acute and have long lasting consequences.
After the kids have moved out and you've left the workforce, it can be all too easy to slip into a routine of spending more and more time alone.
Maintaining and creating social connections is important for all ages, but it becomes vital when it can lead to reducing the risk of depression, anxiety and even some types of dementia.
What are the health implications of long term loneliness?
We all know what it feels like to be lonely, and a few of us unfortunately find out what it is like to be lonely for a long time, but research has shown that it can have physical health effects too.
The links between social isolation to high blood pressure, heart disease, obesity and a weakened immune system are backed by extensive research.
Loneliness is also linked to depression, anxiety, cognitive decline and Alzheimer's disease. All ailments that have a significant impact on the older population.
Does that mean retirement is a risk factor?
No, retirement itself is not a risk factor for these health concerns. However, not having a strong support network and social ties can be.
What is worrying, though, is the projected numbers of Australians living alone by 2026. The Australian Bureau of Statistics says that number is between 2.8 and 3.7 million, with between 34 per cent and 39 per cent of those being older Australians.
It might not be that surprising that being surrounded by friends increases a person's happiness and health - but what can be done?
How can retirees minimise their risk?
The number of factors that increase a person's vulnerability to social isolation are many, but luckily there are a number of ways to combat them.
John Keady and Sue Watts wrote in Mental Health and Later Life that vulnerability increases when social networks reduce, work as a daily routine is lost, family and established friendships become fewer through passing, and when fear of crime leads to a reluctance to go out.
While it can seem inevitable, fighting the loneliness epidemic among active seniors does not have to be difficult.
"You do not need a really extensive social network to receive positive health and mental health benefits – just two or three close friends is what is thought to be protective." Queensland School of Psychology professor, Nancy Pachana says.
There is much evidence to suggest that social engagement can help maintain thinking skills and slow cognitive decline. Additionally, an active social life is linked to better cardiovascular outcomes and immunity resilience.
How retirement villages can help with loneliness
More people than ever are seeing the benefit of moving into retirement villages and aged care facilities, not only are you surrounding yourself with support staff who can meet your care needs, you are surrounding yourself with a social network.
By living in a community with access to events, clubs and dining venues it is easy to connect and interact with neighbours in your own age group and who have similar interests. Having people to talk to, to share news with - both good and bad - has a huge impact on reducing the risks of loneliness and social isolation in seniors.
Have a read of a few testimonials from our residents to see for yourself how living in our communities has benefitted them in their every day - as well as in the long run!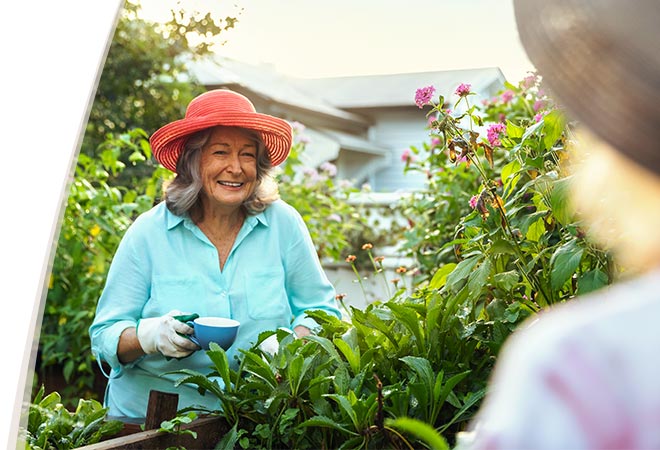 At home in good company
At Aveo, 94%* of residents love their lifestyle. Hear from them about why they made the move and how they feel having made the change!
Subscribe to our newsletter
Be the first to receive the latest news, events and properties for sale at Aveo
Subscribe to our newsletter
The latest Aveo news, articles and resources sent to your inbox.
At Aveo, we respect your privacy and will not share your personal information. You can find out more by downloading our Privacy Policy.